Welcome to Kingston University
Looking for admission in Kingston University?. AbroStudy will help you. Tuition fees in Kingston University and accommodation of foreign students in universities of United Kingdom. How to get admission in Kingston University ? Kingston University ranking.
Kingston University
Information about Kingston University
How the Kingston University works
Kingston University is a corporate body created by statute.
The Chancellor, Bonnie Greer OBE, is the ceremonial head of the University. This is an honorary post with no executive or strategic duties.
The Board of Governors is responsible for the strategic direction of the University. It is chaired by David Edmonds.
The Vice-Chancellor, Professor Steven Spier is responsible for all aspects of the operation of the University. He is assisted in the discharge of his duties by the Vice-Chancellor's Team:

Senior Deputy Vice-Chancellor, Dr David Mackintosh
Deputy Vice-Chancellor (International), Professor Martyn Jones
Deputy Vice-Chancellor (Operations) and University Secretary, Matthew Hilton
Director of Finance, Irene Bews

The Vice-Chancellor's Team plus the Deans of the faculties make up the Senior Management Team (SMT) who meet to discuss and advise on key issues.
The Senate is the University's senior consultative committee for all academic matters, and has responsibility for these under the University's Articles of Government. It is chaired by the Vice-Chancellor.
The five faculties of academic staff are divided into schools.
The central and support departments help staff and students.
The academic year is divided into three terms.
Download the University's organisational chart (PDF) for more information.
The University's mission
Our mission is to promote participation in higher education and the University's Strategic Plan assesses our progress and looks to the future.
The campus development plan is a multi-million pound investment in our estate to benefit students, staff and the local community.
The University policies and regulations ensure we maintain high standards.
Other bodies the University works with
Through these networks, we aim to widen access to education and collaborate with key stakeholders.
Our partner institutions include further education colleges.
Our business and industry links provide a bridge between education and commerce.
Our local community involvement ranges from cultural events to sporting facilities.
Our vision
To be internationally recognised for a creative approach to education that has practical outcomes which benefit people and communities.
Our purpose
To develop potential, transform lives and improve the world around us. To be led by learning in all that we do: enabling others to learn, continually learning ourselves and pushing the boundaries of learning through teaching, research and enterprise and professional practice.
We value
Rigour, curiosity, excellence and originality.
Innovation, creativity and enterprise.
Consideration, courtesy and collegiality.
Breadth, diversity and individuality.
At the heart of what we do are:
Learning, Enquiry, Professional Practice
We will encourage and support high quality teaching and research.
Our teaching will be informed by research and best practice.
We will create, test, share and spread knowledge for its own sake.
All our academics will engage in the development of their discipline.
We will be self critical and learn from what we and others do.
We will enable our students to leave with the best possible degree they can attain so that they have choices and the skills needed for fulfilling professional employment; therefore all students will have opportunities for placements, work in an international environment and activities outside the curriculum.
We will develop strategies to support all who can benefit from a Kingston University education, regardless of background, so that they can participate fully and complete it successfully.
We will only admit students who have the ability, commitment and potential to complete their course; when a student does fail or drop out, we will treat this as a failure of the University.
We will only do things that we can do well. We will review our portfolio of courses regularly; we will develop courses that address our students' needs and we will withdraw from areas with poor outcomes or which are not sustainable.
Enriching Lives
We will continue to be a cosmopolitan, London-based university with an international outlook and a diverse student body.
We will develop people to be independent thinkers with the knowledge, skills and attitudes to contribute to society through constructive challenge and to have fulfilling lives.
We will be a University of choice for students with ambition to thrive in a complex interconnected world.
Our courses and opportunities will meet our students' needs and maximise our graduates' choices and employment prospects.
We will be a broadly-based university and seek to maximise the opportunities this gives our students by offering common programmes that deliver interdisciplinary benefits.
We will demonstrate the economic, social and cultural impact of our research and how it benefits individuals, the community and the environment.
Our staff will have opportunities to develop their skills and abilities; they will all have a personal development plan and undergo regular performance appraisal.
Our appointment, reward and promotions systems will underpin good performance and will support research, teaching, professional practice and administration.
Respect for Individuals, Communities and our Environment
We will review our processes regularly to ensure that they focus on the needs of our students and staff.
We will act ethically to minimise our impact on the environment; we will include issues relating to sustainability and ethics in the curriculum.
We will encourage volunteering and engagement with local and other communities.
We will be welcoming and outward looking, blurring the boundaries between staff and students, the University and the community, and will work closely with local and regional communities to develop an engaged Civic University.
We will engage and work with businesses, professional networks and partners to enrich the lives of our students, alumni and staff and to provide mutual benefit.
The Kingston community will be courteous, collaborative and entrepreneurial. We will be known for our collegial, supportive culture, ignoring internal and external boundaries to provide the best possible education for our students.
We will operate efficiently, optimise our resources (including diversifying our income sources) and ensure the future viability of the university.
We will make sure that our physical and our virtual working environments are fit for purpose for students and staff; we will continue to create spaces and systems that support both individual and collaborative learning anywhere, at any time.
Kingston School of Art
Faculty of Arts and Social Sciences
Faculty of Business and Law
Faculty of Health, Social Care and Education
Faculty of Science, Engineering and Computing
Admission procedure into Kingston University
---
No information about admission at this moment
Send documents for admission to Kingston University
Not available at this moment. If you are university or educational consultant of Kingston University please look this information
Educatinal consultants for admission and educaion in Kingston University
AbroStudy doesn't know any Verified and Trusted Educational consultants of this university. Are you education consultant of this univeristy? Check this page
Presentation Video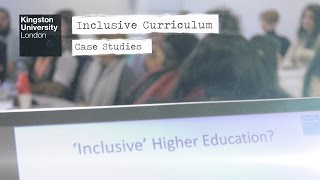 Photo Gallery
Leave Your Review
SQL requests:89. Generation time:0.805 sec. Memory consumption:13.16 mb