Welcome to Carnegie Mellon University
Looking for admission in Carnegie Mellon University?. AbroStudy will help you. Tuition fees in Carnegie Mellon University and accommodation of foreign students in Universities of USA. How to get admission in Carnegie Mellon University ? Carnegie Mellon University ranking.
Carnegie Mellon University
Information about Carnegie Mellon University
Carnegie Mellon University challenges the curious and passionate to imagine and deliver work that matters.
A private, global research university, Carnegie Mellon stands among the world's most renowned educational institutions, and sets its own course. Start the journey here.
With cutting-edge brain science, path-breaking performances, innovative start-ups, driverless cars, big data, big ambitions, Nobel and Turing prizes, hands-on learning, and a whole lot of robots, CMU doesn't imagine the future, we create it.
Сollege of Engineering
Biomedical Engineering
Chemical Engineering
Civil & Environmental Engineering
Electrical & Computer Engineering
Engineering and Public Policy
Information Networking Institute
Institute for Complex Engineered Systems
Materials Science and Engineering
Mechanical Engineering
College of Fine Arts
Architecture
Art
Design
Drama
Music
Dietrich College of Humanities and Social Sciences
Economics
English
History
Information Systems
Institute for Politics and Strategy
Modern Languages
Philosophy
Psychology
Social & Decision Sciences
Statistics
Heinz College of Information Systems and Public Policy
Information Systems & Management
Information Security Policy & Management
Information Technology
Arts Management
Entertainment Industry Management
Healthcare Policy & Management
Public Policy & Management
Public Management
Medical Management
Doctoral Programs
Executive Education
Mellon College of Science
Biological Sciences
Chemistry
Mathematical Sciences
Physics
School of Computer Science
Computer Science Department
Institute for Software Research
The Robotics Institute
Human-Computer Interaction Institute
Computational Biology
Language Technologies Institute
Machine Learning
Tepper School of Business
Undergraduate Business
Undergraduate Economics
MBA
Computational Finance (M.S.)
Doctoral Program
Executive Education
Admission procedure into Carnegie Mellon University
---
Please review our undergraduate admission requirements first. Then consider the following additional requirements or reminders for international students prior to applying:
Deadlines are the same for international students as those posted

 

for Early Decision, Regular Decision and transfer applicants.
It's important that the name used in your application, recommendations and test scores is identical to the name listed on your passport. This will eliminate any confusion in the processing of your application.
The Test of English as a Foreign Language (TOEFL) or the International English Language Testing System (IELTS) is required if your native language is not English. Carnegie Mellon requires TOEFL scores of 102 or better on the internet-based TOEFL (as of Fall 2010) or an IELTS score of 7.5 and above. Carnegie Mellon carefully reviews the sub-scores of each of these exams and considers those candidates with reading, listening, speaking and writing sub-scores of 25 or more on TOEFL and 7.5 or more on IELTS to be candidates with high levels of English proficiency. Please arrange to have these scores sent no later than January 1st. Carnegie Mellon's TOEFL code is 2074.
InitialView interviews are recommended for non-native English speakers but are not required. Often these interviews can measure readiness for engagement in the classroom and also showcase a student's personality, likes and dislikes as well as the area of intended major. InitialView interviews can show English language proficiency while also corroborating the application with more details about the student.
If your secondary school transcript or any other admission document is written in a language other than English, it should be accompanied by an official translation and verified by a counselor or school official to be true copies of the original.
If you are preparing for the International Baccalaureate or the General Certificate of Education (GCE) A-level examinations, please send your expected exam results.
Carnegie Mellon only offers financial aid to U.S. citizens and permanent residents. International students are not eligible for fee waivers.
Send documents for admission to Carnegie Mellon University
Not available at this moment. If you are university or educational consultant of Carnegie Mellon University please look this information
Educatinal consultants for admission and educaion in Carnegie Mellon University
AbroStudy doesn't know any Verified and Trusted Educational consultants of this university. Are you education consultant of this univeristy? Check this page
Presentation Video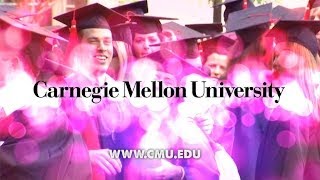 Photo Gallery
Leave Your Review
SQL requests:89. Generation time:1.029 sec. Memory consumption:13.16 mb